Chance to win when you direct deposit your Federal tax refund to your account.
NO PURCHASE NECESSARY. Sweepstakes ends 4/30/19, subject to Entry Periods as outlined in the full Official Rules available at GoBank.com/1040 Must be a resident of the 50 US (excl VT) or DC & 18 or older to enter. Void where prohibited.
How to get your tax refund deposited to your account.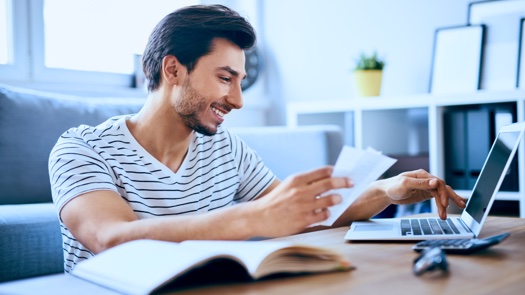 Step 1
Get your routing and account number. There are a few ways:
Text GetDD to 37267 to have it texted to you. Carrier message and data rates apply.
Step 2
Use your routing and account number to fill out your tax form.
Mark "Checking" on your tax form.
Make sure the name on your tax form matches the name on your GoBank card.
Step 3
File your return.
To find out the status of your refund, call the IRS Refund Hotline at (800) 829-1954 or visit www.irs.gov. GoBank does not get information on the status of your refund.
Log in to set up Account Alerts. We'll send you a text or email when your refund is deposited to your account.
Simple filers pay nothing when you use TurboTax Free Edition to file your Federal or State taxes.¹
Not a simple filer? You can still save with GoBank and TurboTax when you click to get started.²
File now
GoBank is neither a paid return preparer nor a tax advisor. All GoBank cardholders are urged to consult their own tax advisors and/or return preparers. In accordance with IRS guidelines, you can direct your refund to your card; you cannot direct your refund to someone else's card ()except for your spouse if it is a joint refund). If we receive a tax refund intended for an individual other than the cardholder, the refund may be rejected and/or your card may be suspended or closed. Limits apply.
¹Visit http://turbotax.intuit.com/lp/yoy/guarantees.jsp for TurboTax product guarantees and other important information. Terms, conditions, features, availability, pricing, fees, service and support options subject to change without notice. Intuit, TurboTax and TurboTax Online, among other, are registered trademarks and/or service marks of Intuit Inc. in the United State and other countries. TurboTax Online and mobile pricing is based on your tax situation and varies by product. $0 federal (for simple tax returns) + $0 state + $0 to file offer only available with TurboTax Free Edition; offer may change or end at any time without notice. Actual prices are determined at the time of print or e-file and are subject to change without notice. Green Dot Bank does not endorse or sponsor the offer.
²The page contains hyperlinks to https://turbotax.intuit.com/affiliate/gobankgd, which is not operated by GoBank. The GoBank Privacy Policy does not apply to the linked site and you should consult the Privacy Policy on that site for further information. GoBank does not provide and is not responsible for the product, service, or overall website content on that site.